These two adjectives have long been associated with Crocs footwear: cozy and casual. More than 100 different kinds of these wildly popular foam-made clogs are currently offered for men, women, and children. As a result, Crocs are available for any occasion and season; this illustrates how adaptive and versatile this footwear is.
Despite being associated with optimum comfort, those who are considering purchasing their first pair of Crocs frequently have the following queries: Are Crocs Big Footed? In crocs, should you size up or down? Or how exactly are they supposed to fit?
It mostly depends on the model and fit you're buying as to whether Crocs run small or large. The casual models typically suffer from running large, but it's crucial to take the fit into account as well.
In terms of fit, the shoes should be snug on your foot and allow for little to no sliding while you move. Your shoe shouldn't ride up and down, and your heel should be stationary. Additionally, the shoe's sides and arch should snugly fit your feet. Your toes shouldn't touch the front. Instead, the front should have some freedom for movement.
Before we jump into the discussion, it's worth exploring another trending topic, namely the question of whether or not you should wear socks with a certain comfortable and versatile shoe brand.
So Do Crocs Run Big Or Small?
In general, crocs fit generously and comfortably and run true to size. But as was already mentioned, the mode you select here is what counts. This is so because certain models are solely intended for relaxation, but others are specifically made for the workplace.
Most of the time, you won't have any problems with styles like the Crocs Classic clog. These are primarily made to offer increased comfort and a flexible fit. Ordering in your usual size will still result in a flawless fit.
However, the situation is different when it comes to products like the Crocs Bistro Clog. First of all, a different design was considered when creating this model. Even though the shoe's top and toe are closed, it still runs a little bit larger than other versions, which is good news for certain people.
The roomy and accommodating fit, for instance, will retain your feet with exceptional comfort if you have a broad foot, making this model ideal for you.
Models like the Crocband, however, won't provide you that much space. Getting a snug fit is possible if you have a normal foot. That's a major no, though, for wide feet. In fact, if you have large feet, it will be difficult to squeeze into these.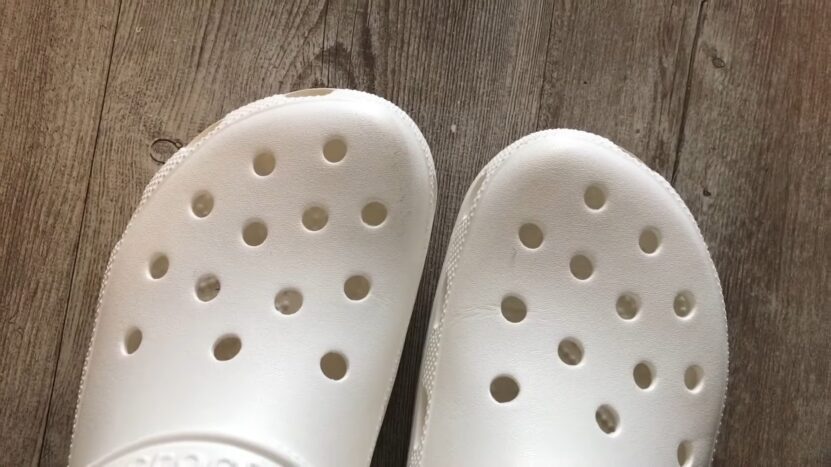 Do Crocs Come In Half Sizes
In general, Crocs run true to size and don't provide half sizes. However, as was previously said, their sizes can differ according on the style of shoe you intend to buy. Since some models are made for comfort while others are made for work, choose the right model is crucial.
Since the Classic Crocs are primarily made to provide a roomier and more comfortable fit, you have no problems wearing them. If you order your regular size, you can get a great fit. The situation is different with other designs like the Crocs Bistro Clog. The Crocs Bistro was built with a contrasting design in mind, to start.
The shoe is slightly larger than other types even though the toe and top are both closed. However, this may be excellent news for some people, so that's something. For instance, if your feet are wide, this model would be ideal for you because of the exceptional comfort that your feet would receive from its roomy and accommodating fit.
The Crocs Crocband model, on the other hand, gives you a tiny room. They will fit snugly if you decide to buy them and have a regular foot. On the other hand, if your feet are wide, it will be challenging to try to squeeze into them.
Crocs' Size
You can select the ideal size for you depending on the type of shoe you intend to purchase. For instance, Crocs slippers can be a good choice if you want something to wear around the house or to collect the newspaper. Simply remember that they are slippers.
Choosing one of the healthcare workers who must stand for hours on end will not benefit you in any way. Checking out the model is the first step in selecting the correct Crocs size.
Since Crocs are made for particular uses and applications, it is necessary to ascertain whether or not the type in question is suited for your foot. You can choose the fit after determining the model; we'll get to that in a moment.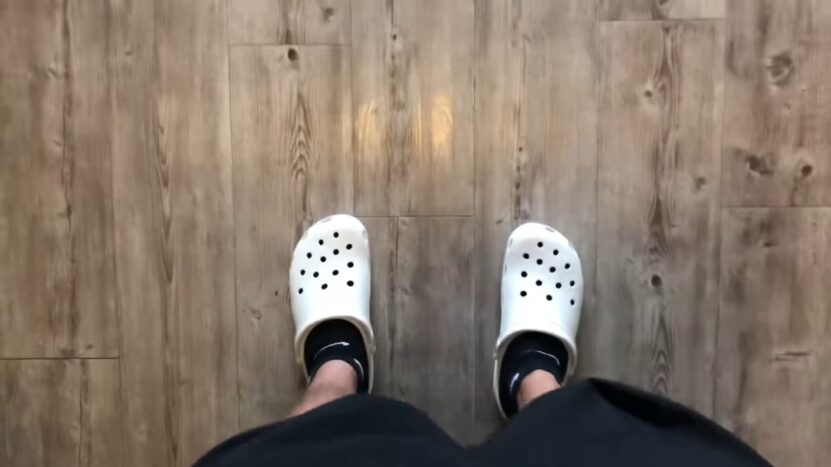 What Fits Crocs Best?
It's important to mention that there are three different fit options for crocs. Depending on the size of your foot, you might choose between a roomy fit, a relaxed fit, or a standard fit:
Large Fit
The most spacious fit available from Crocs is the roomy fit. The manufacturer made sure there were no short ends in the shoe from width to length. Some kinds of Crocs have a backstrap to add more stability, so you won't have to worry about them falling off your feet.
Unhurried Fit
This specific model won't offer as much space as the roomy fit ones. As a result, you may anticipate a tighter fit. Your toes won't come in contact with the top of the shoes, though. You'll note that the sides of the feet extend past the shoe walls despite the wide fit.
Regular Fit
The primary goal of these fittings is to offer the tightest fit possible. However, that doesn't mean you will have an extremely tight feeling in your feet. It means that walking won't be a problem for you and that you won't have to worry about your shoes coming off.
And if slips do occur, they won't be severe. You will still have some movement at the top of the shoe even with a regular fit.
How to Size a Croc
Given that they come in three different fit options (as discussed above), Crocs sizing and fit may differ from shoe to shoe.
The standard fits were created with pros in mind once more. Shoes that won't slip off the feet are necessary for people who wear crocs to work; as a result, the entire design must provide a secure fit. The best option in these circumstances would probably be to choose a standard fit.
However, other folks are simply looking for a cozy, everyday slip-on shoe to wear around the house or while running errands. In that regard, the relaxed and spacious fits both offer possibilities for informal wear, with the roomy options being the most accommodating of all.
Another cozy solution if you don't like wearing Crocs, is Birkenstocks sandals. They're a perfect summer solution (one unpopular idea is wearing them with socks)
FAQs
How do I know if my Crocs are the right size?
The shoes should be snug on your foot and allow for little to no sliding while you move. Your shoe shouldn't ride up and down, and your heel should be stationary. Additionally, the shoe's sides and arch should snugly fit your feet. Your toes shouldn't touch the front. Instead, the front should have some freedom for movement.
What if are too big?
If your Crocs are too big, you can try wearing thicker socks to fill up some of the space. Alternatively, you could try using insoles or heel grips to make the fit tighter.
What if my Crocs are too small?
If your Crocs are too small, it's best to exchange them for a larger size. Wearing shoes that are too small can cause discomfort and potentially lead to foot problems.
Do Crocs come in wide sizes?
Yes, Crocs offers certain styles in a roomy fit specifically designed for people with wider feet. Some models also have adjustable backstraps for added stability.
Can I wear with socks?
Yes, you can wear Crocs with socks if you prefer. This is especially common during colder weather or for added comfort.
Can I wear Crocs to work?
Yes, many people wear Crocs to work, especially those in the healthcare or food service industries. Crocs offers specific styles designed for workplace environments, such as the Crocs Bistro Clog.
Can I wear them for outdoor activities?
Yes, Crocs are suitable for outdoor activities such as hiking or gardening. Certain models, such as the Crocs Swiftwater Sandals, are designed specifically for water activities. Or maybe try your luck with rainbow sandals. They might be a more comfortable solution for you feet.
How do I clean my Crocs?
Crocs are easy to clean with soap and water. You can also use a mild cleaning solution and a soft-bristled brush to remove dirt and stains.
How long do they last?
The lifespan of Crocs varies depending on usage and care. With proper care, they can last several years.
Can I customize my Crocs?
Yes, Crocs offers Jibbitz shoe charms that can be attached to the ventilation holes on certain models to customize the look of your shoes.
Last Words
The Crocs sizing has long been a source of confusion for many individuals. But from the summary above, we hope you have a good understanding of the query, "Do Crocs Run Big?" In conclusion, it is safe to state that Crocs sizing varies depending on the model you choose. As they are made for varied reasons, different Crocs models are made for diverse fittings.